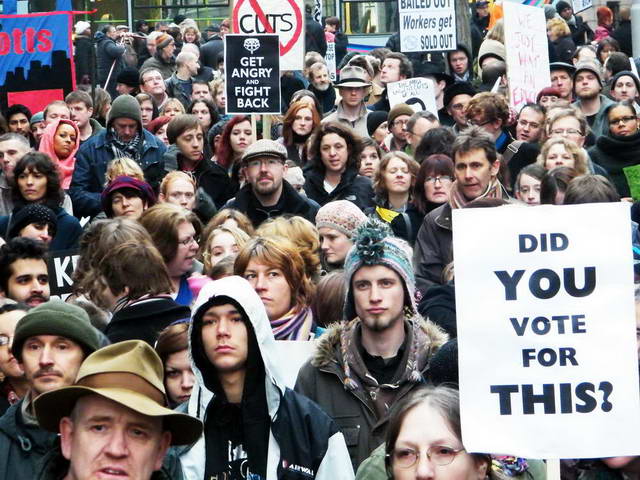 Come to the first Notts SOS conference COMBATING THE CUTS: PLANNING FOR ACTION! – our major event to kick off anti-cuts action in 2011!
Venue: The Old School, Montpelier Road, Dunkirk, Nottingham, NG7 2JW. [Map, with arrow showing venue on Dunkirk Roundabout]. Buses: Indigo 5 or NCT 13.
Time/Date.: 10:30 am until 4:00 pm on Saturday 15th January 2011
Please fill in form below and email it to nottssos [at] gmail.com to indicate attendence to help us with numbers etc.
Our event is also listed on Facebook – you can indicate attendence there but please email completed form too, please.
Across the UK, groups have sprung up in opposition to the cuts being imposed by the Coalition Government – with students, protesting against the trebling of fees, taking the lead. Locally Notts Save Our Services (Notts SOS) has organised a public meeting, a demonstration attracting more than 1,000 people and a number of smaller actions. Students have rallied at both local universities and occupied the Great Hall at University of Nottingham.

But it is not enough to simply protest against the cuts, even in vast numbers. This is one of the key lessons from the movement against the wars in Iraq and Afghanistan. If we want to win, we need a strategy. Notts SOS have some ideas about what this might involve, but we don't pretend to have all the answers. It is with this in mind that we are organising the Combating the Cuts event on Saturday, 15th. January 2011.

We hope to bring together as many people as possible to come up with ideas for campaigning around the different lines of attack on our communities and then try and build these into a coherent strategy. For this to work, we need participation to be as wide as possible: activists, service users, public sector workers, trade unionists, the unemployed and others. We need your ideas to carry the fight-back forward.

So get in touch with us to let us know that you will be participating. Also tell people you know about this important event.
Find out further details by emailing nottssos [at] gmail.com or by phoning 0115 837 7937. Disabled access and facilities. Drinks and food will be available. If you need a creche please email rosemarymuge [at] googlemail.com expressing your interest and we may be able to book one.
To help us with numbers please email Notts Save Our Services at: nottssos [at] gmail.com
I am interested in participating in the Combating the Cuts Event and I would like to receive further details:
NAME:
ADDRESS:
PHONE:
EMAIL:
See you there. Together we can do it!