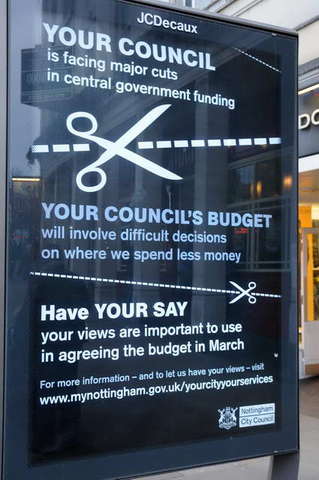 Nottingham City Council are planning to cut tens of millions from their spending in the year from April 2011.
These cuts will reduce services and support for vulnerable people such as:
– Sick, disabled and old people needing support
– People who need help because of mental illness, drink and drugs misuse
– Women fleeing domestic violence and children at risk
In addition there are to be cuts in leisure and cultural facilities such as public libraries. Also 368 Council employees are scheduled to lose their jobs. Further cuts to public services in coming years are planned.
Notts Save Our Services, the local anti-cuts campaign, are urging Nottingham City Councillors not to adopt their cuts budget when they meet on 7th March. They should:
• Declare that the financial situation of the Council is an emergency
• Work with relevant organisations in the City to draw up a budget based on the real needs of local people
• Demand that the Government return the £60 million it has chopped from Nottingham City's allocation
Sign the paper petition and/or e-petition to the Council urging them to resist bringing in cuts to public services. You, your family and friends can sign this petition at one of our many stalls in the Nottingham Old Market Square, Clifton, Sherwood or Hyson Green (Market Place) or at the Playhouse: download the schedule. Please phone the number on the schedule if you want to help. You can also collect signatures yourself and get them to us before March 7th. Again – phone the number on the schedule to find out where to send them. Alternatively send the e-petition link to all your friends, put on social networking sites etc.
TELL THEM 'NO' TO CUTS!
It was the reckless folly of speculative bankers that in 2008 necessitated a £86 billion government bail-out of big banks to prevent them failing. Now the Coalition Government want us to foot the bill for propping up their rich banker friends. That is why the Government is imposing public spending cuts, especially on local councils. Notts SOS says that ordinary people should not pay the debts of the billionaire bankers.
WHAT YOU CAN DO
• Sign the petition to Nottingham City Council. Here is the e-petition which is easy to sign online. If you want to collect petitions use this form and contact us to return them when complete, before 7th March.
• Phone-up your ward councillors to tell them not to vote for the cuts budget. (Download a full list of phone numbers here [Word] [PDF])
• Come to the UNISON picket outside the Council House at 12.30 on Tuesday, 22nd February. (Download leaflet Budget cuts protest 22 Feb 2011 Nottingham City Unison).
• Notts SOS rally in Market Square against the City Council budget. Starts 12 noon on Saturday March 5th. All welcome. Bring banners, placards & things to make noise including yourself!
• Come to the Notts SOS picket outside the Council House at 1.00pm on Monday 7th March (stall set up from 12 noon), the day the Council vote on their cuts budget (Budget meeting starts 2pm when the public gallery will be open – will probably last many hours). We will also be outside 5-7pm for those who cannot be there earlier in the day (feel free to participate in both of course).
• Go on the TUC March for the Alternative in London on Saturday, 26th March.
NOTTS SAVE OUR SERVICES – Defending jobs, services, welfare & education against cuts in Nottingham and Nottinghamshire.
There are also events against County cuts – see https://nottssos.org.uk/2011/02/06/anti-cuts-diary-dates-from-monday-7th-february-2011-nottingham-notts/
for details of all anti-cuts events that we know about.