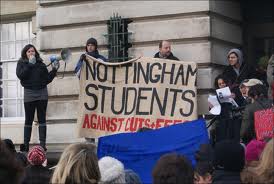 Amidst the widescale revolt on the streets of London on the day of the vote to raise tuition fees, and the front page news spectacular of the paint bombing of the heir to the throne's car on his way to a Royal Variety Performance, one thing is clear. After this narrowly won House of Commons vote, we are definitely not amused, and the fight against raised fees and other cuts to education will continue.
The choice of fees or graduate tax from different politicians is a diversion. The bottom line is that tuition fee rises, by whatever means students will be asked to pay them back, and the abolishing of Education Maintenance Allowance (EMA) for 16-18 year olds are examples of ordinary, and in this case mainly young, people having to pay as individuals for the economic crisis. We are told there is no alternative but there is – make education, like healthcare a common good, freely available to all. Our society has become so much more unequal and this has to be reversed. Private individuals continue to increase their wealth in spite of the crisis that was caused by speculation and the search for quick profits.
The attack on the royals, whilst this one off opportunity will no doubt be debated endlessly in terms of 'security' as will be the policing of anticuts and fees protests in general, it's importance is mostly symbolic. What is really important is that more and more people are prepared to take to the streets to say no to privilege, no to top management bonuses, no to multi-billion tax dodges, and no cuts in services, arts and education. Why should we be the ones to suffer while the rich carry on entertaining themselves seemingly regardless of what we are going through?
Not only students …
On the website of Nottingham Students Against Fees and Cuts names of a total of 85 university staff at University of Nottingham from the School of History, School and Modern Languages and Culture and the School of Politics and International Relations can be found, in full support of last weeks occupation and opposition to the rise in fees.
One of the staff supporter who spoke during the occupation has written an article on his blog: Trade unions and global restructuring
It is especially good to see education workers supporting the students' initiative, and that a city-wide education network is in the making. This network will hopefully involve students in higher and further education colleges and schools, parents, teachers, lecturers, researchers, technicians, admin and clerical, porters, cleaners, caterers – everyone. Organising in education will be a theme of the forthcoming Notts SOS conference on 15th January 2011.
See also: Nottingham Students Against Fees and Cuts! Press release: Students expose Vice Chancellor's regressive views and University's lies and Notts Black Arrow: Nottingham Against Austerity