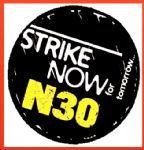 On Wednesday November 30th, up to 3 million workers are expected to take strike action in defence of pensions, in what is going to be an historic day for UK trade unions. Notts SOS will be supporting the local action. Many of us will be on strike.
As well as the picket lines at workplaces across the region including offices, schools and universities, everyone is invited to come and demonstrate against the cuts on Wednesday 30 November, supporting the public sector strikers. Download: Nottingham pensions flyer 30th November 2011
Nottingham demonstration and rally
Gather 10.30 at Forest Recreation Ground and marching to Albert Hall at 11.30am. Bring banners and placards and anything else to make this a noisy demonstration. The march will start at 11.30am, proceeding along Mansfield rd, Upper Parliament St, Market Sq, Derby Rd and back through College St to get to the Albert Hall. The rally at Albert Hall will start around 12.30pm – 1pm (tickets from local trade unions). Speakers (locally and nationally via video links), music and contribution from 1pm to 3pm – and beyond!
There will also be a Notts SOS stall at the rally. Sign the Notts SOS petition against council cuts that we will present in the New Year.
If you are not based in Nottingham, have a look at the Midlands TUC website, where information about local protests and rallies will be regularly updated: http://midlandstucmedia.blogspot.com/p/pensions-justice-30th-november-march.html
On November 19th, Trade Union stalls will be run across the city and county – if you would like to help please email the following
Nottingham Market Square, 12 noon, contact nottstc [at] gmail.com
Beeston 12 noon, contact Thomas.unterrainer [at] talk21.com
Sutton in Ashfield town centre, 12 noon, contact Mick at mansfieldcentralbranch [at] googlemail.com
Mansfield town centre, 12 noon contact Danny on maggiekind [at] btinternet.com
West Bridgford, Outside Oxfam Shop contact Martin Sleath on martin.sleath [at] nottscc.gov.uk
Sherwood Nottingham, 12 noon, contact Richard Buckwell, richardbuckwell [at] hotmail.com