NEWLY ADDED POST-EVENT: reports and photos via Nottingham Indymedia:
1. Photos in Hockley and outside ATOS: http://nottingham.indymedia.org.uk/articles/2051
2. Photos of ATOS occupation and arrests: http://nottingham.indymedia.org.uk/articles/2052
3. After release of one arrestee on bail http://nottingham.indymedia.org.uk/articles/2050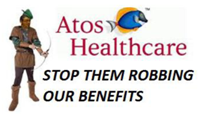 Take action against ATOS Origin and the 'Poverty Pimps' in Nottingham on Friday 30th September 2011. Join us for the National Day of Action against ATOS Healthcare and the government's attack on benefits for people with disability and illness through the 'Work Capability Test' and the Welfare Reform Bill. ATOS Healthcare (a division of ATOS Origin) have the Dept of Work & Pensions contract to carry out medical assessments using a proprietary computer program in local assessment centres using medical and admin staff with very questionnable conduct (see previous article about their antics: https://nottssos.org.uk/2011/08/22/atos-healthcare-medical-examiners-admin-under-fire-for-bad-mouthing-customers-and-improper-conduct/ ).
Nottingham local event: ATOS leaflet Nottingham Sept 2011
Join us for a demonstration and leafleting in Nottingham on Hockley (Goose Gate) Friday 30th September 2011 at 12.00pm (ATOS is on Stoney Street). Facebook details at http://tinyurl.com/nottsatos
Groups campaigning in Nottingham to protect welfare include:
Background
Atos Origin have £300 million contract with the Con-dem Government to continue carrying out 'work capability assessments'. It is claimed assessments are to test what people can do rather than what they can't. The real purpose is to strip benefits from as many people as possible. This testing system has already led to people with terminal illnesses and severe medical conditions being declared fit for work and having benefits cut. GP's are ignored in favour of decisions made by ATOS Origin's computer. Plans announced for the scrapping of Disability Living Allowance have also revealed that this intrusive testing is likely to be extended to everyone on some form of disability or health related benefit. To date around 40% of appeals against Atos Origin's decisions have been successful. Atos have now extended their harassment of sick and disabled by using legal threats to silence websites which have been critical of them, see the Benefit Claimants Fightback website below for more details. http://benefitclaimantsfightback.wordpress.com/
More attacks on benefits coming up: Terminally Ill to have benefits stopped – under Welfare Reform Bill plans, 'contributory-Employment and Support Allowance' (c-ESA) will be time-limited to one year from April 2012. Terminally ill people who have accessed c-ESA since April 2011 may lose all out of work help in just six months as a result.
More by Notts SOS about benefits: https://nottssos.org.uk/tag/benefits/
Press Release
Towns and cities around the UK will see protests tomorrow (30th September) against Atos, the IT Company responsible for carrying out the con-dem government's Work Capability Assessment. As part of a National Day of Action Against Atos, organised by disability, claimant and anti-cuts activists, people will be gathering outside Atos' offices in Edinburgh, Leeds, Manchester, Nottingham, Brighton, Chatham, Cheshire, Birmingham, Glasgow, Hasting, Norwich, Oxford, Bristol, Chester, Plymouth, Sheffield and York.
In London a demonstration is being held outside the BMJ Careers Fair where Atos will be exhibiting in an attempt to recruit doctors to work on their Disability Assessment teams. Thousands of people have been denied or stripped of vital benefit because of decisions made based on Atos' assessment procedure which involves a short interview and a computer based test. Many people have had conditions worsened, either by being forced into the workplace, having much needed money withdrawn or the stress of the assessment process, which has been described as relentless. Sadly some have taken their own lives after hearing of Atos and the DWP's decisions to remove their benefits. Even people with cancer and other terminal illnesses have been deemed 'fit for work'. The government has pledged that this form of testing will be extended to all disability and health related benefits.
This week over one hundred groups and individuals signed a letter to the BMJ and the RCN urging them to stop allowing Atos to recruit at their events and in their publications: http://benefitclaimantsfightback.wordpress.com/open-letter-on-atos-healthcare-to-the-bmj-and-rcn/
An online protest will see companies and organisations which do business with Atos contacted and informed of this company's 'callous and cruel' treatment of disabled and sick people.
Supporters of Disabled People Against Cuts have said that "As long as ATOS continues to treat disabled claimants little better than animals they will continue to protest against them and seek means to discredit them."
ENDS
Notes to editors
The Day of Action has been called by a range of different groups and organisations throughout the UK. For the full list of supporting organisations and further details of all protests please visit the website at: http://benefitclaimantsfightback.wordpress.com/
Contact details of some of the paticipating groups are as follows:
· Benefit Claimants Fightback: notowelfarecuts@yahoo.co.uk
· Black Triangle: info@blacktrianglecampaign.org Scotland contact: 07778 316875
· Defend Welfare network
· Disabled People Against Cuts: mail@dpac.uk.net contact:07714 927533
· WinVisible (women with visible and invisible disabilities): win@winvisible.org Tel: 020 7482 2496.
Atos Healthcare is part of Atos, the French multinational IT company which operates in 42 countries and which has the IT contract for the Olympic Games.
The National Day of Action Against Atos is the sixth National Day of Protest targeting benefit cuts, which has seen a diverse network of claimant, disability and anti-cuts groups and individuals taking action in every major city in the UK. As well as protests outside Atos offices, demonstrations have been held outside jobcentres, workfare provider's offices, the Daily Mail for witch-hunting benefit "scroungers" and Westminster Council over the ban on soup runs.