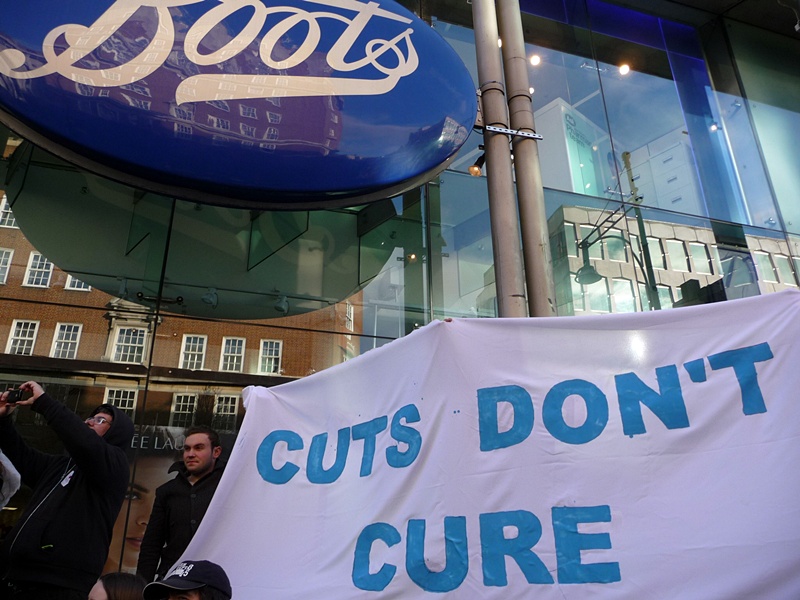 In Nottingham on Sunday 30th January a further UKUncut demonstration was held against profiteering and the hypocrisy of governments that allow companies like Boots and Vodaphone to operate abroad and avoid tax when services are being cut – because the deficit must be reduced at all costs so we are being told time and time again.
Well if the cost is forests in England being sold off, libraries being closed, the NHS being maneouvered further towards privatisation, cuts to benefits and disability allowances going ahead at breakneck speed and an increase in homelessness due to the axing of vital services, then we don't like it one bit. We are right to be angry. Watch video of Nottingham demo.
Meanwhile, on the demo in Oxford Street in London, after the Policy Exchange thinktank classed UKUncut as 'street extremists' who should be dealt with harshly and have their website taken down by the state for daring to suggest that something is wrong, it seems this policy idea was quickly put into practice, with protesters getting pepper sprayed in a manner that could not fail to be likened to the use of tear gas by police in Egypt in recent days.
UKUncut said: Before 15:00 outside Boots on Oxford Street a female activist tried to push a leaflet through the closed door of Boots explaining the details of Boots' tax avoidance to the staff. A police officer then arrested the individual for "criminal damage". Around 20 people tried to help the female being arrested and 10 were subsequently pepper sprayed. Three people have been taken to hospital.
Video link: http://another-green-world.blogspot.com/2011/01/walk-like-egyptian-police-pepper-spray.html
Link to pictures: http://london.indymedia.org/articles/7171
What next – tasers?
Full UK Uncut Press release: http://www.ukuncut.org.uk/blog/press-release-uk-uncut-condemns-political-policing-at-peaceful-protest
Useful advice? http://bcwthebristolhum.blogspot.com/2010/12/day-of-action-bristol-sunday-51210-how.html
Or if you don't fancy that, maybe this phone app for demos? Sukey Roar and Growl: http://sukey.org/
Video of Nottingham demo on 30th Jan 2011:
[youtube=http://www.youtube.com/watch?v=4TDeKMisZiE]