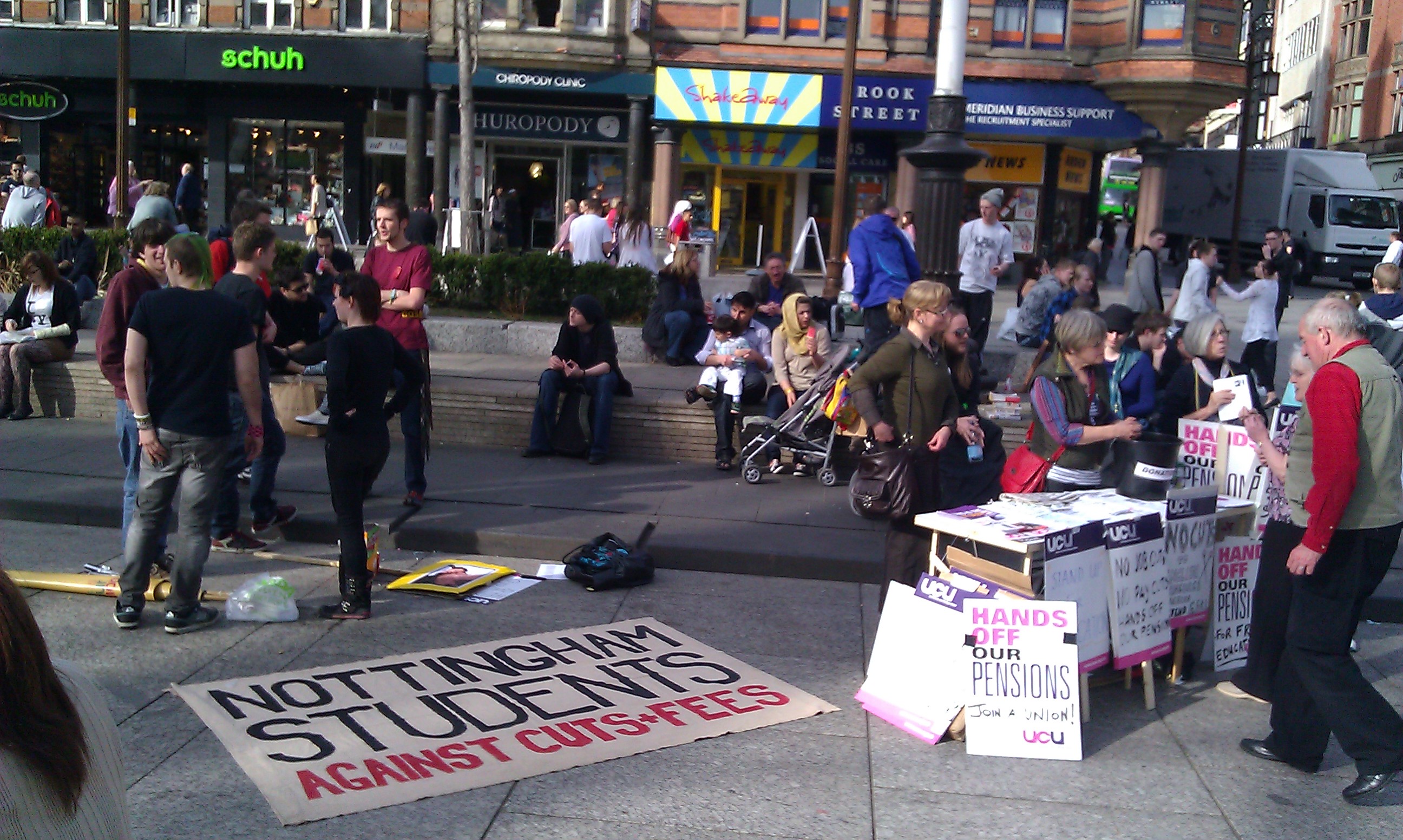 This week, on March 22nd and 24th, the University and College Union (UCU) took strike action in defence of the pay and pensions of academic and academic-related staff and against the employers' attempts to bypass nationally agreed procedures for making redundancies. The majority vote for the strike is also a response to the wider political situation and most immediately the rise in student fees. Staff on strike in Nottingham were from Castle College, South Notts College, Nottingham Trent University and University of Nottingham. Students added to the numbers on picket lines and ran solidarity events all over Nottingham. The local strike leaflet was written by staff and students together. [Download student side of leaflet] [UCU staff side of leaflet]. Look at some photos here: http://nottingham.indymedia.org/articles/1073.
UCU officers and campaigners put lots of effort into building for the strike, not least in co-ordinating between institutions. For some of us Notts SOS UCU members it was the first time we had been involved in organising a strike as opposed to just turning up for picket line duty. It's a lot of work, but we learned lot from more experienced staff. I think we can be pleased with the results, because support for the strike was amazing. Hundreds of staff stayed away or picketed. Staff from other unions or no union beeped their horns in support at picket lines and asked for leaflets and information about the strike. Many university security staff were supportive and helpful also. Even though some public sector trade unionists crossed picket lines, others, notably City and County Council workers such as bus drivers, beeped their horns in support and passengers also waved at us.
The UCU and students condemned the University of Nottingham's assertion that the strike was undemocratic, pointing out that not only was it entirely legal, but percentage-wise the majority in favour of the strike was bigger than the vote for the Conservatives in the last election.
The strike culminated in a rally in the Market Square attended by several hundred people. Speakers made it clear even though workers are not legally allowed to strike except over their own pay, terms and conditions, there is a mood to go beyond this just as there is elsewhere in the public sector. To do this university staff – UCU, Unison and others – need to work together more closely so that the government and employers fear our strength just as they fear the new radicalised student movement that mobilised in support of us this week.
Links
UCU: http://www.ucu.org.uk/index.cfm?articleid=1680
Students: http://nsafc.wordpress.com/2011/03/22/notts-students-support-ucu-strike/
Previous article: https://nottssos.org.uk/2011/03/23/university-staff-picket-lines-supported-by-students-and-many-others-in-nottingham/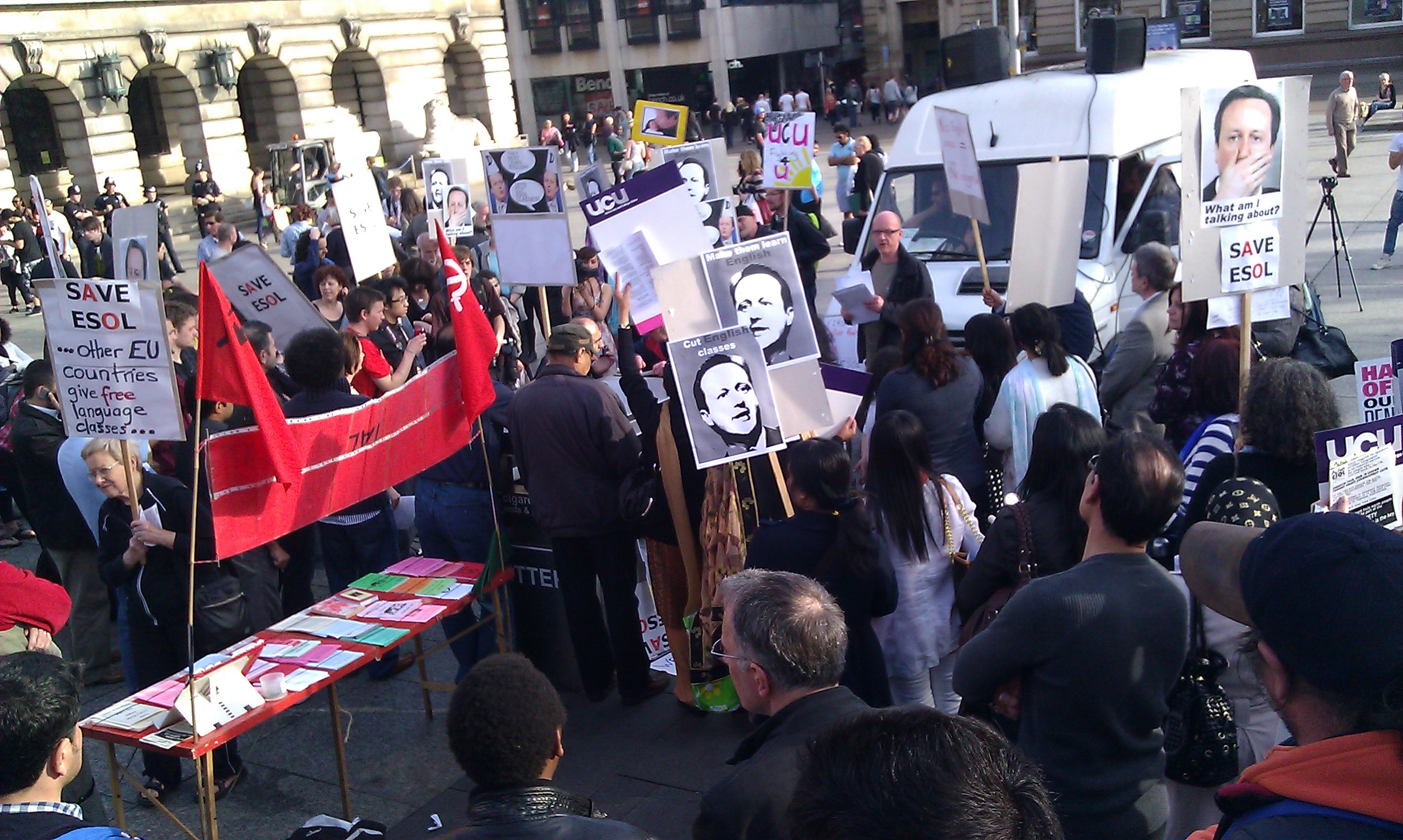 "Don't Cut ESOL Classes!"
This was the message at the rally on Thursday March 24 in opposition to the cuts in funding ESOL classes. ESOL stands for English for Speakers of Other Languages and classes have traditionally been free for most students, who include people on JSA and ESE. But in Nottingham 76% of people on ESOL courses do not receive these benefits. They include refugees, asylum-seekers and other migrants who need English to integrate and contribute to British society. One of the messages of the rally was David Cameron's hypocrisy in stating that refugees should integrate and at the same time removing one of the most important ways they can do this.
About one hundred and fifty teachers, students and their supporters attended and several refugees spoke about how important free access to English classes is to them. Their confidence in speaking in public in a second language is a tribute to their teachers and shows that having good language skills is not just about the ability to communicate but the confidence to do it in the first place. As one of the speakers said, it is an attack on basic human rights.
Removal of free ESOL classes is about more than saving money. It is about marginalising vulnerable people and we need to understand it as part of the state's attack on refugees and asylum seekers, making it even harder for them to access help.
Even though this rally took place hours after the UCU rally earlier in the day, dozens of higher and further education staff and students waited after their own event to attend the ESOL rally. As one UCU member said, "Education is vital for liberation".
Links:
http://nottingham.indymedia.org.uk/articles/1054
http://nsafc.wordpress.com/2011/03/25/nottingham-students-rally-for-ucu-and-esol/
https://nottssos.org.uk/2011/03/23/university-staff-picket-lines-supported-by-students-and-many-others-in-nottingham/